Saturday 26 August 2017

Ruoff Home Mortgage Music Center
Jeff Foxworthy & Larry the Cable Guy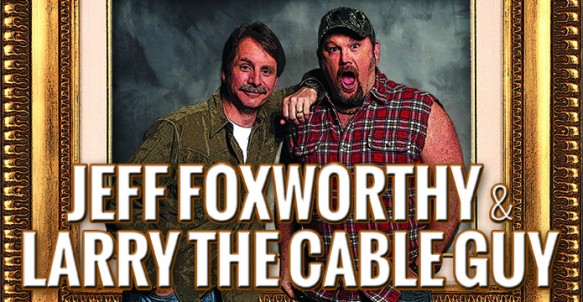 Jeff Foxworthy & Larry the Cable Guy will be making people laugh on Saturday 26th of August at the Klipsch Music Center!
Jeff Foxworthy is one of the most respected and successful comedians in the country. He is the largest selling comedy-recording artist in history, a multiple Grammy Award nominee and best selling author of 11 books. Widely known for his redneck jokes, his act goes well beyond that to explore the humor in everyday family interactions and human nature, a style that has been compared to Mark Twain's.
Larry the Cable Guy, is an American stand-up comedian, actor, country music artist and former radio personality. He was one of the members of the Blue Collar Comedy Tour, a comedy troupe which included Bill Engvall, Ron White, and Jeff Foxworthy (with whom he has starred on Blue Collar TV).
Larry has released seven comedy albums, of which three have been certified gold by the RIAA for shipments of 500,000 copies. In addition, and has starred in three Blue Collar Comedy Tour–related films, as well as in Larry the Cable Guy: Health Inspector, Delta Farce, and Witless Protection, as well as voicing Mater in the Cars franchise. Whitney's catchphrase "Git-R-Done!" is also the title of his book.
Buy your tickets today for Jeff Foxworthy and Larry the Cable guy at the Klipsch Music Center!