Thursday 06 August 2020

Ruoff Home Mortgage Music Center
AJR, Quinn XCII & Hobo Johnson and The Lovemakers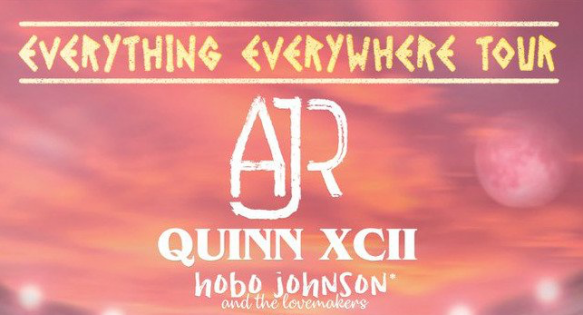 Great news! AJR and Quinn XCII's "Everything Everywhere Tour" will be joined by Hobo Johnson and The Lovemakers. Even greater news? The 2020 trek is stopping by the Ruoff Music Center on Thursday, August 6th 2020!
Three brothers hailing from the Big Apple, AJR is definitely having their moment after their electro-pop single "I'm Ready"  took off on social media, with a total of 10 million views on YouTube so far as well as a reaching double platinum internationally (and gold in the U.S.) The New York natives have no qualms sharing the stage with other rising artists and will be joined by one of Rolling Stone's Breakthrough Artists, Quinn XCII.
It's going to be a fun night filled with pop music's future anthems. Get your dancing kicks ready and book your tickets now!